[ad_1]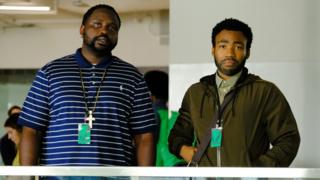 Brian Tyree Henry is still getting used to being famous.
"I've lived in the same neighbourhood in Harlem for eight years, I love it.
"But recently people have started screaming 'Paper Boi' as I go in the building. I'm like 'Guys, I'm still the same person'."
As the rapper Alfred 'Paper Boi' Miles, Brian has become the breakout star of Atlanta.
The show, created by and starring Donald Glover, is a sharp satire on what it's like to live as a black person in America.
"As a black man walking the streets, sometimes you see people looking at you like you're a threat," says the actor. "That's how society is."
The Fox TV programme focuses on Paper Boi's rise in the Atlanta rap scene, and the combination of judgement and jealousy that can bring.
"He's trying to navigate how to move in the world of celebrity and fame, while trying to keep it real," explains Brian.
Take the episode Sportin Waves, when we see the humiliations Alfred has to go through to impress music executives at a streaming service, as an example.
Performing his hit 'Paper Boi' to a room of silent, uninterested office workers – one of whom's eating a banana throughout – is a particular low point.
"He can't really do anything to fight it because his career depends on being liked. His family depends on it," says Brian.
"But the looks I give, the side eyes, the smacking of the teeth – those things convey the frustration he's feeling on the inside."
The 36-year-old's performance has earned him an Emmy nomination – for Outstanding Supporting Actor in a Comedy Series – one of 16 awards Atlanta could take at the ceremony in September.
"It feels so damn good," laughs Brian. "For Alfred to get his time like this makes me so happy."
The actor says Atlanta's team set out simply to reflect their own experiences.
Undoubtedly though, the racial discrimination, petty crime and poverty that blight the lives of its main characters are recognisable to the audience too.
"We know we're not the only people in these situations," says Brian, who went to university in Atlanta.
"Because it's in the South, below the bible belt, there are so many things in Atlanta that are extreme – the religion, racism, sexism, all that crap."
In the 1960s, the city became central to the civil rights movement. It's where civil rights leader Martin Luther King was raised.
"It's the birthplace of civil rights. It's the black mecca, as they call it," explains Brian.
"A city where black people can go and be creative in music, fashion and food. It's a place that fosters that kind of creativity."
And it has produced a remarkable number of successful musicians – OutKast, Usher, TLC, Ludacris, Migos, Future, Killer Mike, Childish Gambino – we could go on all day.
Brian hadn't met Donald Glover before his audition, but says the two clicked immediately.
"We just played off each other, we ad-libbed, and that's how it is on set, like one big family."
He says it was "just a matter of time" before Donald's politically-charged artworks like Atlanta and song This Is America got mainstream attention.
The song, performed under Donald's musical moniker Childish Gambino, has been watched more than 340 million times on YouTube, and earned widespread critical praise.
Brian says that with Atlanta, the team "got the opportunity to tell our story the way we want to, without watering it down".
"We created our own lane. That's the greatness Donald does. He's constantly trying to create his own lane, instead of the lanes that have already been driven on."
The show has been commissioned for a third season, and Brian hopes there will be more.
"The way America is going, we're going to have a lot to say."
Season 2 of Atlanta (Robbin' Season) concludes on Sunday 22 July at 10pm on FOX.
Follow Newsbeat on Instagram, Facebook and Twitter.
Listen to Newsbeat live at 12:45 and 17:45 every weekday on BBC Radio 1 and 1Xtra – if you miss us you can listen back here.


[ad_2]

Source link