[ad_1]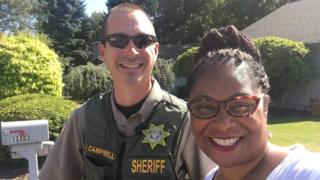 A black Democratic politician in the US state of Oregon says the police were called on her while she was out campaigning for re-election.
Janelle Bynum was knocking on doors in Clackamas County on Tuesday when a patrol car pulled up alongside her.
In a Facebook post, she said one of her constituents had thought she was acting suspiciously and called the police.
"I was going door to door and spending a lot of time typing on my cell phone… aka canvassing," she wrote.
"I asked to meet my constituent who thought I was suspicious, but she was on the road by then."
Ms Bynum, who is hoping to win a second term in the Oregon House of Representatives later this year, then asked the officer to call the constituent.
The woman said she had alerted the police "for the safety of her neighbourhood" and quickly apologised.
"It was just bizarre," Ms Bynum told The Oregonian newspaper." It boils down to people not knowing their neighbours and people having a sense of fear in their neighbourhoods, which is kind of my job to help eradicate."
"It's important for people to feel like they can talk to each other to help minimise misunderstandings," she added.
The incident is the latest example of alleged racial profiling in the US to be widely shared on social media.
A white woman faced widespread criticism earlier this year after calling the police about a black family who were having a barbeque.
In May, a white student at Yale University called the police on a black student who was sleeping in the common room of her halls of residence.
Also in May, there was a massive public backlash after two black men were arrested while waiting for a friend at a Starbucks coffee shop in Philadelphia.
[ad_2]

Source link