[ad_1]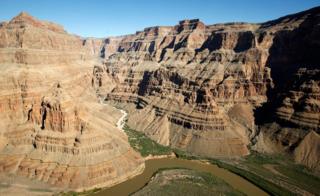 Three British tourists killed in a helicopter crash in the Grand Canyon have been named by US police.
Becky Dobson, 27, Jason Hill, 32, and Stuart Hill, 30, died in Saturday's crash, the Hualapai Nation Police Department said.
Three other Britons and the pilot were injured when the helicopter, on a tour of the canyon, came down at about 17:20 local time (00:20 GMT) in Arizona.
It is not clear what caused the crash.
Images have emerged showing flames and thick smoke rising from the boulder-strewn crash site.
Police said Britons Ellie Milward, 29, Jonathan Udall, 32, and Jennifer Barham, 39, were injured in the crash, along with pilot Scott Booth, 42.
They were rescued at 02:00 local time on Sunday and flown to University Medical Center in Las Vegas, Nevada, a statement said.
A UK Foreign Office spokesperson said: "We are providing support to the families of six British visitors involved in a helicopter accident at the Grand Canyon on 10 February, and we are in close contact with the US emergency services."
In a statement, Brenda Halvorson, the chief executive of the helicopter company involved – Papillon Airways – said the company extended its heartfelt sympathy to the families of the dead and injured.
On its website, Papillon calls itself "the world's largest aerial sightseeing company" and says it flies more than 600,000 people a year.
The Grand Canyon, which is more than 1.6km (one mile) deep, is one of the most visited tourist attractions in the US.
[ad_2]

Source link