[ad_1]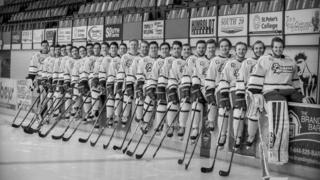 Canadian PM Justin Trudeau has attended a vigil to honour the 15 killed in a crash involving a bus carrying a junior ice hockey team.
Canada has seen an outpouring of grief following Friday's collision.
Ten players on the Humboldt Broncos team, aged between 16 and 21, died when their team bus collided with a semi-trailer in Saskatchewan.
Police are still trying to determine the reason for the crash. The lorry's driver was not hurt.
Hockey teams from around the country paid tribute to the dead during weekend fixtures.
Many have pledged donations to support their families and the surviving players. Online fundraising pages have raised millions of dollars.
Who are the victims?
There were 29 people on the team's bus when the crash happened around 17:00 local time (23:00 GMT) on Friday. That number includes players, coaching staff and the driver.
Fifteen were confirmed dead by officials on Sunday. Fourteen people were also injured in the crash.
Head coach Darcy Haugan, 42, was among the first confirmed casualties.
Broncos team president Kevin Garinger said that Haugan believed that "the Humboldt Broncos were about not building hockey players but creating amazing young men".
"He's sadly missed by our entire organisation."
Assistant coach Mark Cross, 27, was remembered as "a ferocious competitor who had a vibrant approach to life", by York University Lions men's hockey head coach Russ Herrington. Cross played for five seasons with the college team.
Broncos team captain Logan Schatz, 20, played for the Broncos for more than four years.
His host family recalled how the young athlete was quick to make himself at home.
"The first night he was here, he walked in and he was checking the fridge to see what we had for leftovers," Colin Brochu told the Globe and Mail.
The following Broncos players were also confirmed dead:
Adam Herold, 16, from Montmartre, Saskatchewan
Connor Lukan, 21 from Slave Lake, Alberta
Evan Thomas, 18, from Saskatoon, Saskatchewan
Jacob Leicht , 19, Humboldt, Saskatchewan
Jaxon Joseph , 20 , from Edmonton, Alberta
Logan Boulet, 21, Lethbridge, Alberta
Logan Hunter, 18, from St. Albert, Alberta
Stephen Wack, 21, from St. Albert, Alberta
Xavier Labelle, 18, from Saskatoon, Saskatchewan
Broncos team staff also confirmed killed in the crash are:
Brody Hinz, 18, from Humboldt, Saskatchewan
Glen Doerksen, 59, from Carrot River, Saskatchewan
Tyler Bieber, 29, from Humboldt, Saskatchewan
Photographs posted on social media showed several injured members of the team holding hands with each other in hospital.
One team member's father, Tom Straschnitzki, said his son Ryan was in hospital with a serious back injury and that he could not feel his legs.
The family flew to his bedside on Saturday.
"He keeps asking about his team and coaches," Mr Straschnitzki told the BBC from his home in Airdrie, Alberta. "I say: 'I don't know son'."
What is known about the crash?
The lorry and bus collided on Highway 35, north of Tisdale. The team had been heading to the town of Nipawin for a play-off game.
Aerial photographs of the crash site show it happened close to a junction between two roads.
The lorry driver was not injured and has been allowed to go free while authorities investigate, the Royal Canadian Mounted Police said.
Myles Shumlanski, father of one of the Broncos players, described the crash scene as a "disaster" to the Saskatoon Star Phoenix paper. "We had a crane lifting the bus," he said.
Rob Muench, the mayor of Humboldt, said it would take years for the community to come to grips with the tragedy.
"Throughout Canada we see teams going out into the Canadian winters on buses all the time and it's always a thought in parents' and fans' minds about what could happen," he said.
"There is no playbook on what to do in cases like this."
Nipawin Apostolic Church lead pastor Jordan Gadsby told the BBC he had opened his church to families shortly after learning of the crash.
"The worst part of the night was sitting with and watching parents cry as they waited to find out if their son was alive or not," he said.
Who has paid tribute?
News of the crash has shocked Canada, where ice hockey is a national sport and loved by many.
Users on social media expressed solidarity using the hashtags #prayersforhumboldt and #humboldtstrong.
Mr Trudeau said the entire country was "in shock and mourning" along with Humboldt, which has a population of only 6,000.
"Our national hockey family is a close one, with roots in almost every town – small and big – across Canada," he added.
He has received condolence calls from other world leaders, including US President Donald Trump.
Humboldt Broncos President Kevin Garinger said the club were "heartbroken and completely devastated" by the tragedy.
The young athletes who play in the competitions like the Saskatchewan league often go on to play for colleges, major junior teams or the National Hockey League.
Canada has experienced similar tragedies before.
In 1986 a bus carrying the Swift Current Broncos junior hockey team hit a patch of black ice on a Saskatchewan stretch of the Trans-Canada Highway, killing four players.
Since 1987, Western Hockey League team uniforms have been adorned with a clover patch in remembrance of the young men killed that day.


[ad_2]

Source link