[ad_1]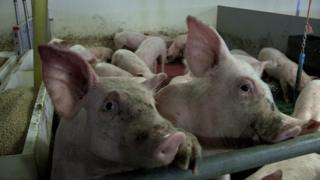 China has said it is considering imposing tariffs on $3bn worth of US products in retaliation to new tariffs announced by US President Donald Trump.
The list of products under consideration by China includes pork, wine, fruit and nuts and stainless steel pipes, among others.
At the same time, China has asked the US to avoid taking US-China trade relations to a "dangerous place".
Beijing said it hoped the US would pull back "from the brink" of a trade war.
On Thursday, the US announced plans to impose tariffs on up to $60bn (£42.5bn) on Chinese imports and limit the country's investment in the US.
The move was a response to years of alleged intellectual property theft by China.
On Friday, China's commerce ministry said economic co-operation was "the only right choice" and urged the US to deal with the issue through dialogue to avoid long-term damage.
But the ministry said it had plans for two steps of retaliatory tariff action:
a 15% tariff on 120 goods worth almost $1bn – including fresh fruit, nuts and wine
a 25% tariff on eight goods worth nearly $2bn – including port and aluminium scrap.
The first step would be imposed if the US failed to reach a trade agreement. The second after further evaluation of the US tariffs.
China said that while it did not want a trade war, it was not afraid to have one.
Beijing also has plans to pursue legal action through the World Trade Association on US tariffs announced last month against imported steel and aluminium products.
Markets in Asia fell on fears that the US and China were about to embark on a trade war.
The benchmark Nikkei 225 was down 3.5% in late morning trade, Australia's S&P/ASX 200 was down close to 2%, and markets in China were all in negative territory.
US stock markets also closed lower on Thursday.
Why is the US taking this action?
The US imports billions more goods from China each year than it exports, creating a deficit of about $375bn last year – which is what Mr Trump has railed against.
The president said on Thursday that he has asked China to cut that deficit by $100bn "immediately".
But the new US tariffs follow an investigation into Chinese policies ordered by Mr Trump in August.
The White House said this found a range of "unfair" practices in China, including restrictions on foreign ownership that pressured foreign companies into transferring technology.
The review also found evidence that China imposes unfair terms on US companies; steers investments in the US to strategic industries; and conducts and supports cyber attacks.
The White House said it had a list of more than 1,000 products that could be targeted by tariffs of 25%. Businesses will have the opportunity to comment before the final list goes into effect.
The US is also exploring ways to limit Chinese investment in the US and will seek to bring complaints about unfair licensing terms to the World Trade Organization, officials said.
America's top trade negotiator Robert Lighthizer said protecting US technology was critical to America's economic future.
Who are the potential losers in a trade war?
US officials had acknowledged the possibility of retaliation from China, but said the Asian giant ultimately had more to lose.
If imposed as described, the US tariffs could lead to higher costs for consumers, while China's retaliation would hit key sectors of the US economy including agriculture and aerospace, analysts say.
China was the third largest market for US exports in 2016 and among the biggest buyers of American corn, pork and aircraft.
China is also the world's biggest consumer of soybeans and consumes about one third of the US crop.
But in news which will come as a relief to US farmers, Friday's announcement did not include the soybeans.
Is there wider support in America for the plan?
Critics of Mr Trump's policies dismiss worries about the trade deficit, saying the exchange benefits both sides.
However, there is growing bipartisan concern in America about China's state-led economy and worry that China is seeking technology that could be deployed for military purposes.
Mr Trump's America First policy remains popular with large sections of the US public.
However, trade watchers in Asia says China's retaliation will not doubt be carefully targeted to hit key Trump-supporting areas of the US.
"The Chinese have been developing their list for more than a year and they are very good," said Deborah Elms, executive director of the Asian Trade Centre in Singapore.
"They may also add services companies that want to sell into China. If things get very nasty, they can also make life very difficult for US companies doing business in China. It's going to be very interesting."
[ad_2]

Source link