[ad_1]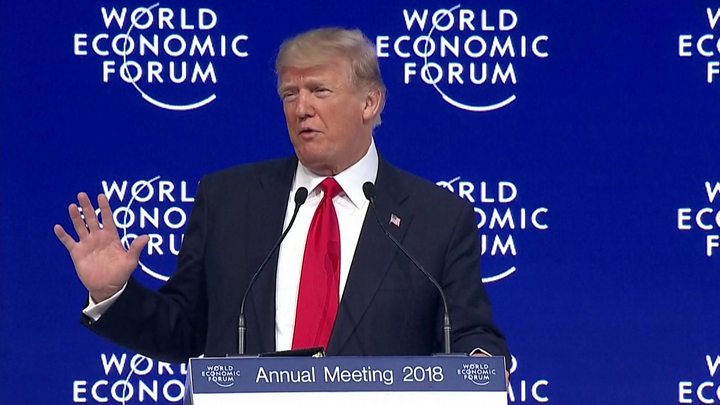 President Donald Trump has launched a fierce attack on "predatory" trade practices, warning trading partners at the World Economic Forum in Davos that the US will not tolerate unfair trade.
He said these predatory practices were distorting markets and the US "will no longer turn a blind eye".
Mr Trump said he would always put the US first when it came to trade, but "that does not mean America alone".
"The US is open for business," he told global political and finance leaders.
Our correspondents say his America First policy seems to be in contradiction to the conference's aim to promote globalisation and co-operation.
Mr Trump lauded the economic achievements of his first year in office, including cutting corporation tax and lowering the unemployment rate, and said the US was more attractive than ever to foreign investment.
"I'm here to deliver a simple message – there has never been a better time to hire, to build, to invest and to grow in the United States. America is open for business and we are competitive once again," he said.
As he was speaking, latest figures for US economic growth were released, showing a slowdown in growth from 3.2% to 2.6% in the final quarter of last year. This meant annual growth for 2017 was 2.3%, up from 1.5% in 2016 but below the president's 3% target.
Audience left disappointed
Katie Hope, BBC Business, Davos
The anticipation of President Trump's speech was so high that the high-flying chief executives and politicians here were willing to spend over an hour of their precious time queuing to get in.
The buzz beforehand was akin to a top pop concert, only everyone was wearing suits and tapping on their iPhones.
Yet now it's over the response seems rather muted. I think people were expecting a more conciliatory tone, but the message the president hammered home was that it was still very much "America First".
That sentiment didn't go down particularly well in this audience, there were muted murmurs at one point, not quite boos, but certainly not applause either. Still at the end everyone clapped and a handful of people even gave a standing ovation.
In reality, most people don't care about what he said, they are just glad he's come at all. He has basically confirmed to them that they are important.
Trump is powerful and people here love power.
The US president demanded a reformed international trade system and accused unidentified countries of unfair practices, including "massive intellectual property theft" and providing state aid to industry.
Mr Trump also said he preferred bilateral fair trade agreements with other countries, including those signed up to the Trans-Pacific Partnership (TPP) from which he has withdrawn. He said he would consider negotiating with TPP states collectively, if it was in America's interest.
Some attendees reacted negatively when he attacked the media and repeated accusations of them reporting "fake news" in a question and answer session after his address.
"As a businessman I was always treated really well by the press… and it wasn't until I became a politician that I realised how nasty, how mean, how vicious and how fake the press can be," he said.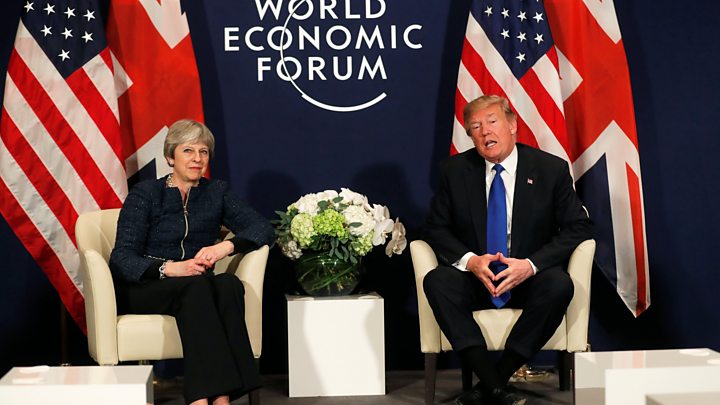 Mr Trump has had a universally positive reception, with cheers on his arrival on Thursday in the main Congress Centre.
On Thursday, he met UK Prime Minister Theresa May, who said they stood "shoulder to shoulder" in facing shared military threats.
He has also reportedly said he is prepared to apologise for retweeting posts from a British far-right group last November, a move that sparked a Twitter row with Mrs May.
[ad_2]

Source link