[ad_1]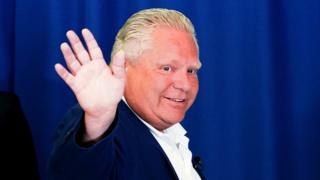 Doug Ford – the brother of late Toronto mayor Rob Ford – is the new premier of Ontario. Who is the populist politician taking the reins of Canada's most populous province?
In 2010, Rob Ford rode a wave of support from the city's suburbs straight into the mayor's office of Toronto.
His vow to end government waste and the disrespect of taxpayers resonated with the so-called "Ford Nation", a coalition of voters who felt ignored by the decision-makers downtown.
With him came his older brother, Doug Ford, who was elected as city councillor and who championed his brother's proposals to cut city waste – to "stop the gravy train" to city hall.
Rob Ford's tenure as mayor of Canada's largest city was tumultuous, most notably marked by his admission to using crack cocaine while in office.
During those raucous four years, between 2010-14, Doug Ford proved more than willing to jump into the fray to defend his brother against the critics and speculation about the mayor's drug use and drinking.
On Friday, Doug Ford was sworn-in as the premier of Ontario – one of the most powerful political positions in Canada – after running a successful campaign for the centre-right Progressive Conservative (PC) party.
He won the election for Ontario, home to Canada's industrial heartland and its most populous province, with a very similar message to that of his late brother's: the party is over with the taxpayers' money.
His win leaves some who worked alongside the pair in Toronto speculating what life might be like under a Doug Ford government.
City councillor John Filion sat behind Mr Ford in city council chambers for four years, and recalls the 53-year-old businessman as being funny and "very affable" when they would go for lunch together.
That changed back in city council chambers.
"He can be friendly one minute in a social context and then want to knock your block off the next in a political context," says Mr Filion, who wrote a book about the Fords, The Only Average Guy.
Mr Ford, who once described himself to Mr Filion as a "scrapper", is unlikely to back down from a brawl now that he's graduated from city hall to Ontario's legislature.
Mr Ford is known for his plain-speaking style and frequent attacks on media and the elites whom he once described as "drinking champagne with their pinkies in the air".
During his time as city councillor, he fought publicly with acclaimed author Margaret Atwood over proposed library cuts; accused the city's former police chief of leaking information about Rob Ford to journalists – later apologising under threat of a defamation suit; and told fellow councillors "Why don't you shut up and sit down?"
His campaign for Ontario was unapologetically populist.
He vowed to end government waste, promised to fight for "the little guy", to cut energy cost, reduce the price of petrol, lower provincial income tax and slash the price of beer.
It's a message that resonated with the 40.5% of Ontario voters who cast ballots for PC candidates, giving them 76 of the 124 seats in the province.
"People like to say populism like it's some sort of awful thing," his campaign director Michael Diamond told the BBC.
"There's no shame in a government for the people and by the people. It's their money, it's their province and so it should work for them."
The businessman's biography – president of a label-making company founded by his father, limited political experience – as well as his brand of politics and brash demeanour have invited comparisons to US President Donald Trump.
While Mr Ford has voiced his personal support for the American leader, there has been debate over the comparison's validity.
Mr Diamond dismisses it, though he "would agree in that they're both businessmen who have been successful in both business and politics".
Abacus Data pollster David Coletto says Mr Ford is "not Donald Trump and Ontario is not America".
"But the way that he campaigned and the fact that he embraced such a populist change message was similar".
Mr Filion says he sees similarities between the two politicians in the "need for attention, the us versus them [mentality], the inability to see things from anyone else's perspective, the feeding of the [political] base, the antagonism towards anyone who says anything negative about them".
Others have pointed out he can be light on facts.
On the campaign trail, Mr Ford frequently touted that "we saved the taxpayers over C$1.16bn" ($872m; £664m) during his time at city hall – a figure widely disputed by fact checkers who suggested the former mayor and his team actually saved the city some C$893m – about C$350m more than previous administrations.
He was also dogged by family chaos during the campaign. His brother's widow, Renata, filed a lawsuit alleging Doug and another brother, Randy, had mismanaged the family business and mishandled her late husband Rob's estate.
Both men have strongly denied the claims, which have not been tested in court.
Ford Nation, the dedicated political base that fuelled the rise of both Rob and Doug Ford, make up about 5% of the province's voters, says Mr Coletto.
"There is not a real clear demographic, or regional or even socio-economic profile of them," he says.
What unifies them is an affinity for the Ford family, a sense that politics and society have become too politically correct, and that there's a "condescending elite class that has lost touch with ordinary folks".
The PC campaign was given a boost outside its core support in the 7 June election by widespread voter fatigue with the Liberal Party, which had been in power in Ontario for 15 years.
"There was a great desire for change, a growing angst among a higher income segment of the electorate who felt life was getting way too expensive," says Mr Coletto.
"Ford appealed to voters who just wanted some relief."
The new premier will face hurdles in his promises of prosperity. The province's economy is most at risk in Canada if the North American Free Trade Agreement renegotiations with the US turn sour.
Mr Ford has said he stands with Canadian Prime Minister Justin Trudeau on trade matters and rising protectionism.
While some economists have praised some of his commitments, including a planned corporate tax reduction, others have raised concerns about the potential cost of his plans.
Mr Ford's win riled up progressive activists in the province, who are already planning to fight against any public sector job losses, the premier-elect's promise to hold the minimum wage at $14 per hour, his plan to revisit the province's sex-education curriculum, and his vow to challenge the federal government's planned carbon tax.
On election night, as it became clear Ford was headed to victory, one left-leaning Toronto city councillor cheekily tweeted: "To the ramparts!"
Mr Filion doubts the battle cries will faze Mr Ford.
"He'll be enjoying poking a stick at anything the lefties hold near and dear," he says.
"And he'll just love it they're out there carrying placards against him.
"It'll be a sign that things are working as they should."


[ad_2]

Source link