[ad_1]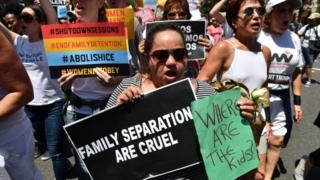 Tens of thousands of people are expected to join nationwide protests across the US over the Trump administration's strict migrant policy.
More than 630 events are planned calling for migrant families split up at the US border to be reunited.
Some 2,000 children remain separated from their parents, despite President Donald Trump's executive order ending the controversial policy.
He bowed to public pressure after weeks of domestic and international outrage.
The order stopped children being taken from parents who face criminal prosecution as part of the president's policy of "zero tolerance" towards illegal crossings of the US border from Mexico.
Faced with a backlash, President Trump instead promised to "keep families together" in migrant detention centres.
However, critics say the order did not address the issue of families already separated, with 2,342 children taken away from their parents between 5 May and 9 June alone.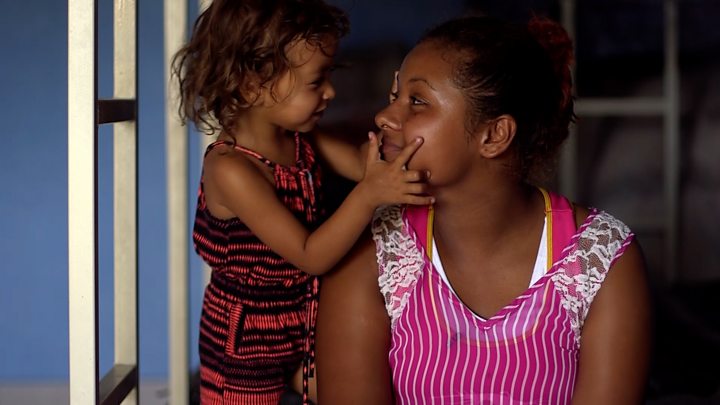 Earlier this week, a judge in California ordered the families to be reunited within 30 days.
It is likely to be one of the biggest protests over immigration, an issue that has proved deeply divisive under the presidency of Donald Trump, the BBC's David Willis reports from Los Angeles.
What do the protesters want?
People across many major towns and cities in the US have been urged to gather under the slogan #familiesbelongtogether. Organisers say they want to send a message to President Trump, who they fear will go back on his executive order.
"We cannot slow down now since the court ruling alone isn't enough and could be overturned," the movement's website says.
As well as reuniting parents with their children, organisers are calling for an end to immigrant detention – even when families are kept together – and also plan to voice opposition to President Trump's travel ban targeting five majority-Muslim nations, which was upheld by the US Supreme Court earlier this week.
Much of the uproar over the separation policy came after news organisations reported children being held in cells, converted warehouses and desert tents around the country.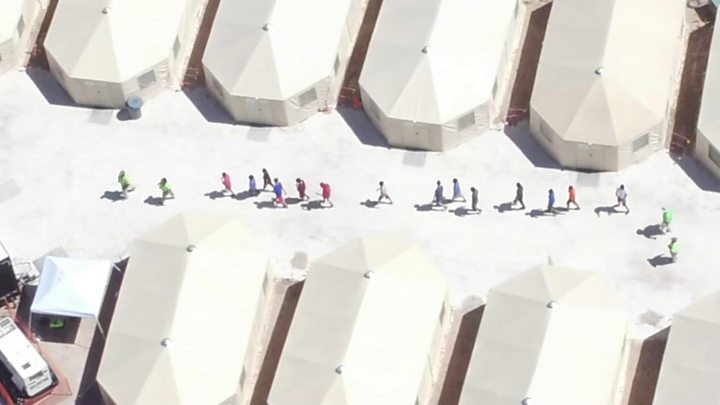 Who is taking part?
Organisers say they expect tens of thousands of people to turn up – with instructions to dress in white, to represent peace and unity. The main march is in Washington DC, but one of the people behind the movement, Anna Galland, says there will be separate events in 50 states in total.
Lead organisers of the march include the American Civil Liberties Union, the Leadership Conference on Civil Rights and the National Domestic Workers Alliance.
A number of celebrities have also expressed their support, including actresses Julianne Moore, America Ferrara and Natalie Portman, and Lin-Manuel Miranda, creator of the hit musical Hamilton.
It is not the first such protest to take place, with nearly 600 women arrested on Thursday during a sit-in at a US Senate building against the government's migration policy. Actress Susan Sarandon was among those detained.
Many were draped in foil sheets to highlight the flimsy bedding given to migrant children held in border detention facilities.
What is the policy?
President Trump has defended "zero tolerance", saying officials are just enforcing the law.
Under a crackdown that the Trump administration rolled out in May, all border crossers – including first-time offenders – are criminally charged and jailed.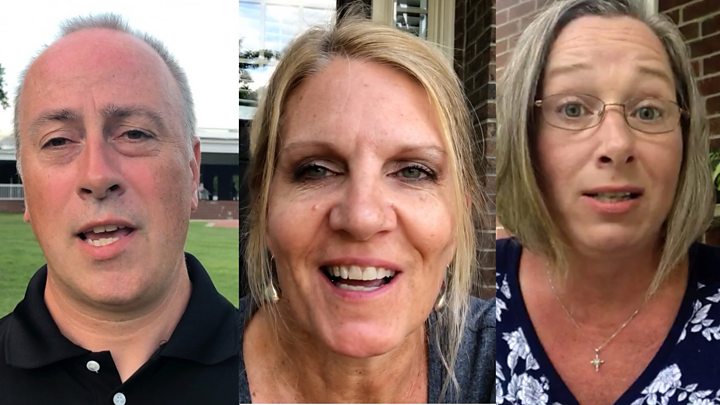 Migrant children are not permitted to be incarcerated with their parents and are kept in separate facilities maintained by the Department of Health and Human Services.
Under previous US administrations, undocumented immigrants caught crossing the border for the first time tended to be issued with court summonses.
But the Trump administration points out that most of those migrants never showed up for court.
[ad_2]

Source link