[ad_1]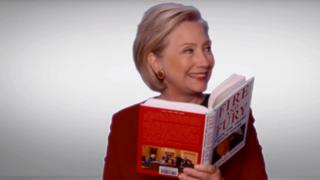 Members of President Trump's team have voiced their disapproval of a Grammy Awards sketch featuring a cameo by Hillary Clinton.
The video showed Clinton and several famous musicians, including Cher and Snoop Dogg, reading extracts from Michael Wolff's Fire and Fury.
Grammy host James Corden explained they were hoping to win the award for best spoken word album.
But Donald Trump Jr mocked the sketch, calling Wolff's book "fake news".
The segment, which aired during the Grammys ceremony on Sunday night, saw Clinton reading a notorious passage about President Trump's love of fast food.
"He had a longtime fear of being poisoned," she said.
"One reason why he liked to eat at McDonalds. No one knew he was coming and the food was safely pre-made."
Her appearance was cheered by the audience in Madison Square Garden but Nikki Haley, the US ambassador to the United Nations, was less enthusiastic.
Donald Trump Jr used the opportunity to take a shot at Clinton's election loss.
President Trump's supporters will have found much to dislike during the three-hour Grammy ceremony.
Pop star Camila Cabello made an impassioned defence of immigrants – in particular the "dreamers" who were brought to the US illegally as children – as she introduced a performance by U2.
"Tonight, in this room full of music's dreamers, we remember that this country was built by dreamers, for dreamers, chasing the American dream," she said.
"I'm here on this stage tonight because, just like the dreamers, my parents brought me to this country with nothing in their pockets but hope. They showed me what it means to work twice as hard and never give up, and honestly, no part of my journey is any different than theirs.
"I'm a proud Cuban-Mexican immigrant, born in Eastern Havana, standing in front of you on the Grammy stage in New York City. All I know is, just like dreams, these kids can't be forgotten and are worth fighting for."
U2 then performed Get Out of Your Own Way, which addresses the threat of racism and far-right politics, from a barge in front of the Statue of Liberty.
As the song ended, Bono referenced disparaging remarks President Trump is alleged to have made about African nations, shouting, "Blessed are the shithole countries, for they gave us the American Dream."
Rapper Logic addressed the same topic at the end of his performance of the anti-suicide song 1-800-273-8255.
"To all the beautiful countries filled with culture, diversity and thousands of years of history, you are not a shithole, you are beautiful," he said, in comments that were censored by US broadcaster CBS.
The Grammys ceremony also took time to reflect on the #TimesUp movement, and the concert-goers who lost their lives in Manchester and Las Vegas last year.
The main awards went to Bruno Mars and Kendrick Lamar.
Follow us on Facebook, on Twitter @BBCNewsEnts, or on Instagram at bbcnewsents. If you have a story suggestion email entertainment.news@bbc.co.uk.


[ad_2]

Source link