[ad_1]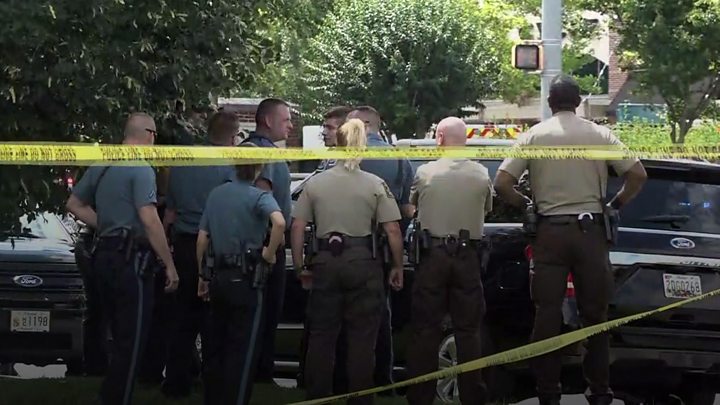 A gunman has opened fire at a local newspaper office in Maryland, killing five people and wounding three.
Staff at the Capital Gazette building in Annapolis said he shot through a glass door into the newsroom.
"There is nothing more terrifying than hearing multiple people get shot while you're under your desk and then hear the gunman reload," tweeted reporter Phil Davis.
Police said a suspect was in custody and being questioned.
He is reportedly refusing to co-operate with officers and a police source told CBS News that he had "damaged" his fingertips to avoid being identified.
The suspect, a white male in his 20s, surrendered to officers without a struggle.
He was found to be carrying fake grenades and smoke bombs in a backpack, police said. They said he used a "long gun" but did not give further details.
The deputy chief of Anne Arundel County Police, William Krampf, said an item "we believed to be an explosive device" had been found at the premises and destroyed.
He added that more than 170 people had been escorted safely from the building, which houses other businesses.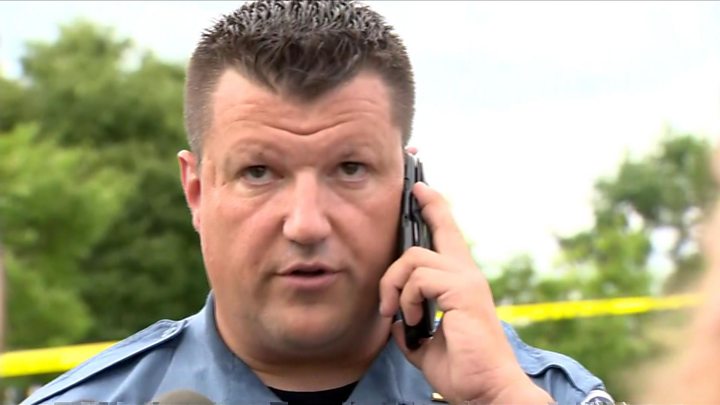 Mr Davis, the reporter who tweeted following the incident, described the shooting at the newspaper's office in Annapolis, just east of Washington DC, as being "like a war zone".
He said that people were still hiding under their desks when the gunman stopped shooting. "I don't know why. I don't know why he stopped," he told the Baltimore Sun.
Another reporter, Danielle Ohl, said the newsroom was quite small, with "about 20 news staffers" and several advertising staff. "We are close. We are family. I am devastated," she said.
Jimmy DeButts, the editor at the Capital Gazette, which runs several newspapers, tweeted that he was "heartbroken" following the incident.
County executive Steve Schuh told CNN that the suspect was hiding under a desk in the building when police officers arrived "within 60 seconds" of receiving news of the incident. He said that there was "no exchange of fire".
He added: "Law enforcement does have a name [for the suspect] but we are not able to confirm it at this time."
Federal agencies, including the FBI and the Bureau of Alcohol, Tobacco, Firearms and Explosives, were involved in the response to the shooting.
The New York City Police Department (NYPD) later said it had deployed counterterrorism teams to media organisations in and around New York City as a precaution.
Maryland governor Larry Hogan said on Twitter he was "absolutely devastated" and was in contact with authorities.
Democratic senator Chris Van Hollen responded to Mr Davis on Twitter, saying "journalists shouldn't have to fend off bullets in the newsroom".
President Donald Trump was briefed on the shooting. He tweeted that his "thoughts and prayers" were with the victims and their families.
White House Press Secretary Sarah Sanders later condemned the attack in a tweet.
The Capital is a daily newspaper and digital news site that is part of Capital Gazette Communications.
Capital Gazette Communications publishes several local papers and is owned by the Baltimore Sun Media Group.


[ad_2]

Source link