[ad_1]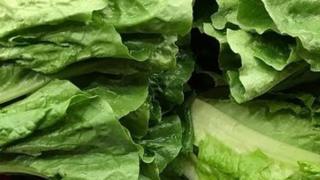 US health officials are investigating a major E. coli outbreak involving romaine lettuce that has already affected 98 people in 22 states.
The Centers for Disease Control and Prevention (CDC) said 14 new cases were registered on Friday.
Ten people have kidney failure and 46 are in hospital.
The CDC linked the outbreak to the Yuma growing region in Arizona, advising consumers not eat or buy romaine lettuce from that area.
However, the search for the exact source of the outbreak is continuing, and dozens of farms are being investigated.
No deaths have been reported.
The Washington Post reported the story of a 16-year-old girl from California who was rushed to hospital in severe pain and has been diagnosed with kidney failure as part of this outbreak.
"She was trying to cut out junk food and be healthier," her mother told the newspaper.
Tests have confirmed that the strain of Escherichia coli O157:H7 bacteria in the current outbreak produces a type of toxin that causes more severe illness.
People usually notice symptoms three to four days after they have been infected, but symptoms can start any time between one and 14 days afterwards and last for up to two weeks.
Vegetables and fruits that come in contact with gut and faeces of infected animals are a common source of E. coli-related illnesses.
After news of the outbreak was first made public a week ago, people used social media to express their surprise that they were being warned off lettuce, and make jokes about healthy eating.
[ad_2]

Source link