[ad_1]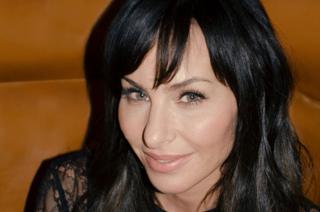 It's a bit of a strange experience, sitting down in a hotel to chat to someone whose life you've just seen portrayed on a big screen, witnessing their biggest triumphs and personal disasters.
Imagine how it feels then for "poker princess" Molly Bloom herself, seeing Jessica Chastain slip into her shoes and present her story to the world in Molly's Game.
It could all have gone very differently – with a prison sentence instead of a film premiere.
She's the first to admit it, and indeed very keen to do so, saying (seconds after the interview begins): "I feel it's important to establish that the difficulties of the last six or seven years were of my own making.
"I just never imagined I would be here. Particularly after pleading guilty to a federal sentence, not knowing what consequences, long-term, that was going to hold for me. Having such exorbitant debt and no money.
"You know, I made a giant mess. So to be here in London… it feels very magical and fairy tale-ish. It's an extraordinary moment that was not foreseen."
Bloom, a former world-class skier whose sporting career was cut short after an accident, was meant to be going to law school. But instead, she ended up setting up exclusive high-stakes poker games for Hollywood's elite.
Hundreds of millions of dollars changed hands – she says one of the most surreal moments of that period was when she counted out a million dollars in cash by hand.
But for all the wealth and excitement of that lifestyle, there was a very dark side. She was beaten by the Russian mafia, started using drugs and had her assets seized after a 2011 FBI raid.
Two years later, they arrested her in New York, and she was charged with profiting from hosting illegal games.
She was among more than 30 people charged with a variety offences relating to a vast illegal gambling and money laundering operation. Bloom faced up to five years in prison, but after entering a plea deal was sentenced to probation and fined.
Afterwards, Bloom wrote a book detailing her experiences, and then approached her "favourite writer" Aaron Sorkin to adapt it for the big screen.
The first time Bloom saw the film was at the Toronto Film Festival earlier this year – in an audience along with hundreds of other people, watching her as she watched someone else play her.
"It was deeply emotional," she says, emphatically. "I don't know why I wanted to do it that way.
"The studio and Aaron said I should sit down, see it with my family in an empty theatre. I said, 'no, I'll just see go see it at Toronto'. With 2,000 people. And then there was a moment five minutes in, sitting in that theatre, where I was like, what was I thinking? This is crazy. And how am I going to get through the next two hours and 25 minutes, because I feel like I can't breathe.
"But halfway into that opening scene, I was just watching a movie. And I was able to get outside of myself – even though I couldn't have possibly brought more personal baggage. I was able to just watch it as an extraordinary film. And then of course there were some deeply connective and emotional experiences, when the audience is experiencing these things with you.
"Your scariest moments, your darkest nights. Your biggest triumphs. And they're with you. They're crying at the sad parts, and they're laughing. That was such a cathartic experience for me. Because you suffer alone, mostly. Even if there are people around to help you, you don't suffer with an audience, you don't triumph with an audience. But this was. And it was an extraordinary night."
She admits her life felt stranger than fiction "all the time".
"Getting the book published and the movie made was not an easy task," she says. "But it helped. Because even though it's a difficult life to explain, I lived it.
"So I knew there was a real story there and something that we haven't seen. Because there were these moments continuously of – 'is this real life? This feels like a movie'."
One side of that story is what she calls the "cinematic wish fulfilment" with the "makeovers, shopping sprees, lots of cash, access to celebrities".
Blooms adds: "But the biggest moments for me were when you take this calculated risk in which the odds are so stacked against you.
"You're going up against the billionaire boys' club or trying to find your way into something you have no basis for, and it's bigger than anything you ever imagined – and then actually having that work. Having that risk pan out. It taught me to be very fearless – maybe too fearless in the end".
But although others had been speaking to her about the project, the questions Sorkin asked "were markedly different".
"He wanted to know about my relationship with my father. He wanted to know about my sports background. A lot of time, they came out of left-field but they all came together."
She said it makes the film, instead of being about that flashy lifestyle, look at the wider human experience – albeit "set on a strange, larger than life stage".
And Bloom is full of praise for "extraordinary" Jessica Chastain, who stars alongside Idris Elba (who plays Bloom's lawyer) and Kevin Costner (who plays her father).
"She blew my mind," she says. "Because she didn't get to spend much time with me – she has a packed schedule and this was a short prep time.
"I was wondering as they were filming, 'is she just going to do her own creative interpretation of this?'. But when I watched that movie, the handle she has on emotion! She was able to communicate the intricacies of how I felt in those moments. This was such a weird world and not one that's so easy to intuit your way into. She just captured it, all of it, so beautifully. She blew me away."
The film being released feels like "a fresh start" for Bloom. She says after her work on it was done, after she'd completed 200 hours of community service, she went back home.
"I did a little soul searching to explore where I had gone wrong, why I made the decisions I did, how my definitions of success and ambition were off," she says. "I love a great new pair of shoes, I love to look at my bank account and see zeroes, but what is it attached to?
"Making it about something larger than myself is certainly a lesson. If I'd had that understanding, when I started being dealt bad cards, I wouldn't have played them. I would have understood it's time to walk away and try something new. But I was so identified by the money and this position."
She says despite the power and the wealth, she felt an "emptiness". She now wants to fill that by doing something "purposeful" – to that end, she plans to work with female entrepreneurs and create co-working spaces and networking events.
But just how much of Sorkin's film is actually true to what happened in those crazy years of Bloom's life?
"He inflated my LSAT (law school exam) score, gave me a few extra points," she smiles. "But for the most part he made a movie that was very rooted in the truth. I had a lot of trauma – so there's a lot to choose from. But I feel he cherry-picked the best moments and wove them all together, in this incredible story."
Molly's Game is released in the UK on 1 January 2018.
Follow us on Facebook, on Twitter @BBCNewsEnts, or on Instagram at bbcnewsents. If you have a story suggestion email entertainment.news@bbc.co.uk


[ad_2]

Source link