[ad_1]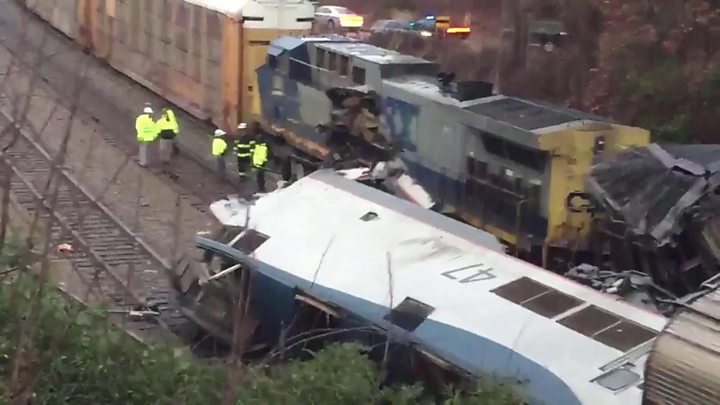 An Amtrak train carrying 147 people has collided with a goods train in the US state of South Carolina, killing at least two people, officials say.
About 70 people were injured. Amtrak says the passenger train's lead engine and several carriages derailed in the crash near the state capital Columbia.
The train was travelling from New York and heading for Miami.
Just four days ago, a lorry driver was killed when his vehicle hit a train carrying lawmakers in Virginia.
The local sheriff's department confirmed the fatalities in the South Carolina crash, which happened at 02:35 local time (07:35 GMT) in the town of Cayce, just outside Columbia.
The American Red Cross sent rescue workers to the scene of the collision, and emergency services say all passengers have been evacuated from the train.
Up to 70 people were taken to hospital, with injuries ranging in severity from small scratches to broken bones, a spokesman for the South Carolina Emergency Management Division told reporters.
A shelter has been set up at a nearby school for passengers to get assistance.
According to Amtrak, 139 passengers and eight staff members were aboard the train. It is not known how many people were aboard the goods train, run by freight operator CSX.
An estimated 5,000 gallons (22,000 litres) of fuel was spilled from the CSX train but emergency officials said there was no threat to the public.
"The incident is very near the state farmers' market and other residential areas but right now, everyone is safe," Derrec Becker, a spokesman at for the state emergency department, said.
The National Transportation Safety Board said it was investigating the incident.
One passenger, Derek Pettaway, told CNN he had been travelling from Philadelphia to Orlando in a sleeper cabin when he had been awoken by the impact of the crash.
The train's staff evacuated passengers in a "really calm fashion," he said.
South Carolina senator Tim Scott wrote on Twitter: "My prayers are with the families of those killed in the train crash in Lexington County this morning, and hoping for the best for all those injured. South Carolina is with you all!"
Concerns about safety standards on the US rail network have been raised after a number of fatal train crashes in recent years:
February 2018: Crozet, Virginia. A lorry driver died after his vehicle hit a chartered Amtrak train carrying Republican lawmakers, including House Speaker Paul Ryan
December 2017: Seattle, Washington. Three people killed when a passenger train plunged off a bridge after hitting a 30mph (50km/h) curve at 80mph
March 2017 – Biloxi, Mississippi. Four people died when the bus they were travelling in got stuck on train tracks and was hit by a freight train
May 2015 – Philadelphia, Pennsylvania. A passenger train derailed, killing eight people
January 2015 – Austin, Texas. A prison bus carrying 12 inmates and three officers skidded off a bridge and hit a freight train, killing 10 people on the bus
December 2013 – The Bronx, New York City. Four people died when the driver of a passenger train fell asleep and the train took a 30mph curve at 82mph, then derailed
[ad_2]

Source link