[ad_1]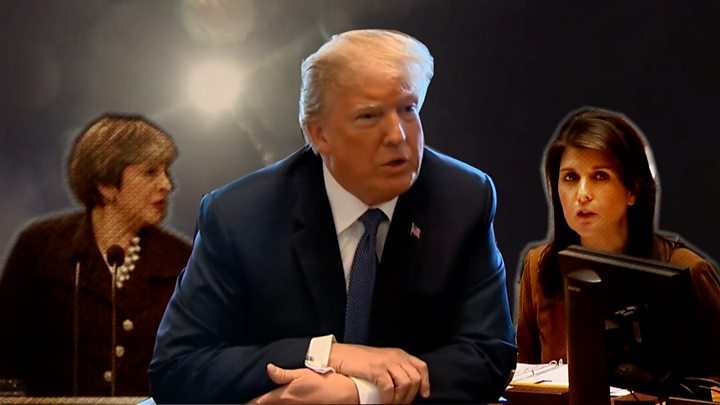 US President Donald Trump has cancelled his first official trip to Latin America to focus on the issue of a suspected chemical attack in Syria.
He will remain in Washington to "oversee the American response to Syria", the White House said.
Meanwhile, the global chemical weapons watchdog has said it will send a fact-finding team to the site in Douma.
Medical sources say dozens were killed in the alleged attack there, but exact numbers are impossible to verify.
The Organisation for the Prohibition of Chemical Weapons (OPCW) said a team would deploy to Syria "shortly".
It comes after Syria and its military backer, Russia, both said they wanted to facilitate a visit by inspectors. Syria denies being behind any chemical attack.
US Vice-President Mike Pence will travel in President Trump's place for the Latin America trip, which begins in Peru for the Summit of the Americas.
Later on Tuesday, the UN Security Council will vote on competing US and Russian draft resolutions on the Syria incident. The US wants a new panel to be set up that would investigate and apportion blame for chemical attacks in Syria, but Russia is likely to veto the proposal.
Will there be a military strike?
Mr Trump has pledged a "forceful" response, and has spoken of numerous military options.
Last April, after a Sarin nerve agent attack killed more than 80 people in a Syrian opposition-held town, Mr Trump ordered the firing of dozens of cruise missiles at a Syrian government air base from US Navy ships in the Mediterranean.
It was the first direct US military action against forces commanded by Syrian President Bashar al-Assad.
Since Saturday's incident, Washington has been in discussion with Britain and France, raising the prospect of co-ordinated Western military action. UK Prime Minister Theresa May spoke to President Trump and President Macron of France in separate calls on Tuesday.
Mrs May and Mr Trump had condemned Mr Assad's "vicious disregard for human life" and "agreed not to allow the use of chemical weapons to continue", the White House said.
Mr Trump's decision to cancel his Latin America trip suggests the US response may involve a larger military operation than a limited strike, says the BBC's Barbara Plett Usher in Washington.
The AFP news agency quoted French government spokesman Benjamin Griveaux as saying on Tuesday that "if a red line had been crossed, there will be a response", adding that intelligence shared by the French and US leaders "in theory confirms the use of chemical weapons".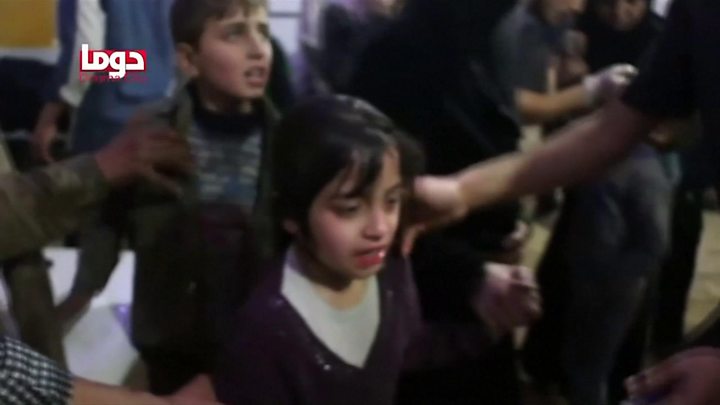 The US and France have not released evidence to support their assessments of the alleged attack.
Neither the death toll nor what exactly occurred can be verified as the area is blocked off, with access denied.
Russia has warned at the UN Security Council that US military action could have "grave repercussions".
What happened on Saturday?
Syrian opposition activists, rescue workers and medics allege that bombs filled with toxic chemicals were dropped on Douma, in the Eastern Ghouta region, near the capital Damascus, by Syrian government forces.
The Syrian-American Medical Society said more than 500 people were brought to medical centres with symptoms "indicative of exposure to a chemical agent".
It said this included breathing difficulties, bluish skin, mouth foaming, corneal burns and "the emission of chlorine-like odour".
The estimates of how many people died in the suspected chemical attack range from 42 to more than 60 people, but medical groups say numbers could rise as rescue workers gain access to basements where hundreds of families had sought refuge from bombing.
The French representative at the UN Security Council said poison gas had deliberately been used as it could seep down to the basements.
[ad_2]

Source link