[ad_1]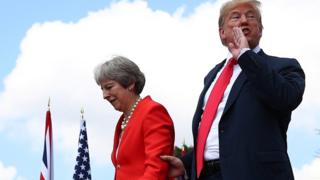 The BBC's Tara McKelvey is travelling with Trump as he visits the UK.
14 July – Reticent Scots and their affection for Trump
Those in Scotland who like Trump are often quiet. They stand on the side of the road, waving, as we drive in a presidential motorcade from Glasgow Prestwick Airport to Turnberry.
When you talk to them, they don't say outright they support him. Instead, they list his good traits: "He comes across as a normal person," as Stuart Telfer, a defence industry manager from Ayrshire told me on Saturday. Trump's "pro-American", he says, adding the UK could use more of his attitude. In Telfer's view, "a population of non-English people" has turned England into something that's "maybe not an English state anymore".
Telfer reminds me of Trump supporters before the election, ones I met in Missouri, Kansas and other Midwestern states.
The vast majority of people in the UK disapprove of Trump, according to YouGov polls. Yet many – they're hard to count because they don't always own up – think he's OK.
"He's in power for a reason," Telfer says, adding that Trump's views resonate in the US and here in the UK, too.
13 July – Best behaviour
"Here comes the queen," says a British journalist in a quiet voice. He's standing behind me on the lawn at Windsor Castle, and I look up and see a lovely woman in a wide-brimmed blue hat.
A moment later she smiles broadly at the president as if she really is happy to see him, and they walk together across the grass.
Standing nearby, the British journalists and I are intensely focused on the two people in front of us: the controversial president and the queen.
While he walks next to her across the lawn, I watch in suspense to see if he'll reach out and touch her back or her arm – the way he usually does when he meets someone but would be a breach of royal protocol.
He's on his best behaviour, though. Tonight we head to Glasgow. We'll see what happens.
13 July – Welcome to our reality
It was an unusual press conference for myself and other US journalists at Chequers – I could hear cows mooing from a nearby pasture. and I was served a cup of tea in a makeshift press centre on the lawn.
But otherwise it was business as usual – for Trump. He threw out insults ("fake news"), made up words (he supersized "special" when describing the US-UK relationship) and betrayed confidences – we learned, for example, May was dismissive towards the press while she was trying to repair her relationship with Trump.
For British journalists, though, a Trump press conference was astonishing – and they didn't try to hide their feelings.
When Trump trashed The Sun, I heard an "ooooh" as British journalists looked around at each other in surprise. Trump bragged about himself, as he's wont to do. "I'm not bad at doing things," he said. And they didn't smile and move on – as we usually do.
At the end of the press conference, one of the British reporters, as he was gathering his belongings, said to his colleague, "That was the most astonishing thing."
And as we left, I thought, well, now you know what things are like for us.
13 July – Testing times
Prime Minister May waited for President Trump at Chequers, a 16th-century mansion outside London.
After he got out of his vehicle, he mouthed the words "How are you?"
They acted in a friendly manner, and he followed her inside. As they walked, he put his hand towards the small of her back, protectively, but he didn't touch her.
Inside they sat in an ornately-decorated room and spoke to journalists. It was an awkward meeting.
Trump was deeply critical of May in The Sun, and he's here for a visit that was supposed to showcase the special relationship. She and other world leaders have steadfastly hung on to the idea that old alliances remain steady – despite what the president says.
He tried to reinforce that idea: "The relationship is very, very strong," he said while sitting next to her.
Still he's testing the limits.
Whether he can truly smooth things over with the prime minister – in private as well as in public – and give the two leaders a chance to get beyond the latest row remains to be seen.
12 July – Smiles on British tarmac
President Trump knows how to make an exit – and an entrance.
"Will Brussels ever be the same?" one of my colleagues wonders aloud as we fly over the city on Air Force One, heading for the UK.
Trump threatened to leave Nato if his allies didn't increase their defence spending, and he claims credit for the way they have responded.
Behind the scenes, his aides struggle to explain his position on Nato and seem uncertain about his plans.
At one point someone saw an official rushing down a hallway of the new Nato headquarters with a lectern – and we knew the president would soon be speaking.
But people who work for the president seem exhilarated by the experience and say they're looking forward to his stay in London.
The president says he's popular here – despite the fact hundreds of thousands of people say they'll be protesting on the streets.
He's made a splash on the tarmac in Essex, at least. It's a lovely day at Stansted Airport and people here are smiling and seem happy to see him.
He'll now fly on the presidential helicopter Marine One to Winfield House, the US ambassador's residence. I'll be in a helicopter near him in the presidential fleet – and we'll see how things go.
[ad_2]

Source link