[ad_1]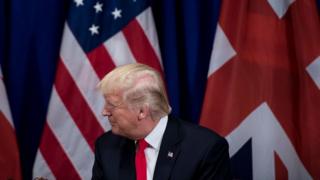 Many on social media are parodying US President Donald Trump's reason for cancelling a trip to London in February.
Mr Trump tweeted on 12 January that he did not wish to visit the capital because he was "not a big fan" of relocating the US embassy to an "off location" in Battersea, south London.
Social media users are posting their own reasons for calling off trips to the city, caricaturing Mr Trump's explanation.
One would-be-tourist explained their decision to abandon plans to travel to London was influenced by proposals to silence Big Ben – "the best and biggest clock in London".
Hundreds of tweets offering "reasons" for not visiting London have been posted. The cancellation of the trip comes on the day Mr Trump is under fire for allegedly using explicit language to describe some countries. The president denies using the crude slur.
BBC Radio 1 DJ Greg James used the president's vocabulary to lament his parent's choice to sell his cricket gear and buy an "off location" shed.
Referring to the fact the decision to relocate the embassy was not taken by the Obama administration, as asserted by Mr Trump, but under the previous President George W Bush, one Twitter user suggested Greg's grandparents may be to blame.
You may also like:
Some claim to have called off a trip because of the actions taken by some of the capital's football clubs.
Other social media users have attempted to highlight the north of England as a "prime location" and the cost of train travel and beer in London.
Others were put off by the prospect of trying to understand Cockney rhyming slang and the complex geography of the city.
By George Pierpoint, UGC and Social News


[ad_2]

Source link