[ad_1]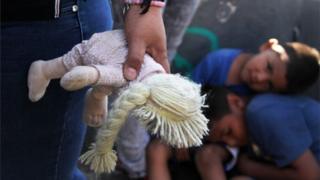 At least 2,300 children have been taken from their families since 5 May after entering the country without documentation at the US-Mexico border. An uncertain reunion process now lies ahead of them.
President Donald Trump says he has directed agencies to begin reuniting children and parents separated after entering the US illegally.
On Friday, officials said around 500 migrant children have been reunited with their families.
But advocates for separated families say they have had no updates from government agencies about how the thousands of remaining children will find their parents.
What's the current system for reuniting families?
When families are detained for crossing the border illegally, parents and children should be given the same file number by immigration officials.
This identification tool, known as an A-file number, is meant to make it easier for parents to locate their children after they are released, deported or jailed.
But it becomes more complicated when parents are separated from their children prior to receiving their A-file number. Parents and children can instead end up with different numbers, making it far more difficult to reunite them.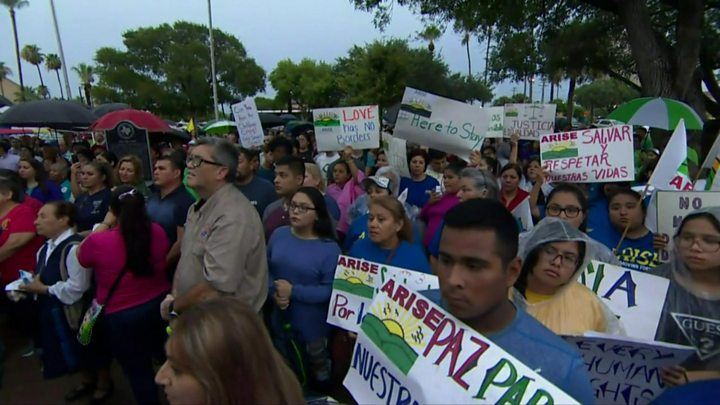 Adult immigration cases are processed by Immigration and Customs Enforcement (ICE), which is operated by the Department of Homeland Security (DHS), while minors go through the Office of Refugee Resettlement (ORR), which is run by the Department of Health and Human Services.
DHS and ORR did not return a request for comment.
On Friday evening, a US administration official told CBS News that US Border Patrol no longer had any children who were separated from their parents under the "zero tolerance" policy in custody.
However, the statement did not appear to reflect the children who had already been processed by ORR.
For now, families are reportedly being given a flyer advising them to call or email ICE or ORR to locate their children.
What's happening on the ground?
The parents' stories
Jodi Goodwin, a lawyer based in Harlingen, Texas, has been working with 25 migrant parents at the Port Isabel Detention Center.
She has yet to see any family reunifications, and told the BBC that the process for matching parents and children remains woefully unclear.
"It's unclear as of yesterday whether there is a formalised process to match their children with them, whether they'll be detained together, whether they'll both be released," she says.
"In one conversation the emotions can range from despair to elation."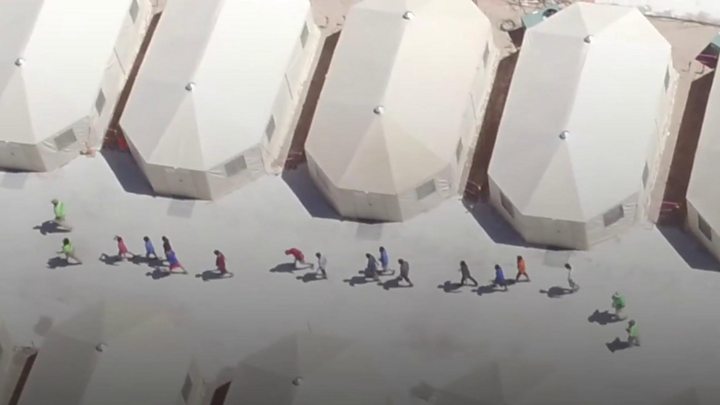 One of the mothers at the centre has not seen her five-year-old son since they were separated at the border on 12 June.
Her son was a witness to a murder in Honduras and has needed treatment for post-traumatic stress disorder ever since. His mother has no information on where her son is, or if he's getting the therapy he needs.
"She's despondent, numb," Ms Goodwin says. "She can't even sit up straight. She has no information whatsoever."
It is a familiar scenario at the centre, according to Ms Goodwin.
"It would've been a lot easier if the government thought about this in advance – about how they were going to track children."
Even when parents are given a contact number for their children, Ms Goodwin adds, the calls go unanswered.
"They try calling from the detention centre but they never pick up. Multiple mothers have told me the same thing.
"That they try and try and try but they can't get through."
The children's stories
Kids in Need of Defense (KIND) is one of the nonprofit organisations assisting in the family separation crisis.
"Family separation did happen before the zero tolerance policy," says Megan McKenna, senior director of communications at KIND.
"But the scale of it now is unprecedented. Before it was the exception – now it's the rule."
KIND has tried to match families as best as they can without official protocols in place, leading to a lot of "detective work", Ms McKenna says.
Advocates have tried to guess the A-file number of the parent based on the number of the child. If numbers fail, they try to locate parents depending on where the child crossed the border, contacting nearby detention facilities, according to Ms McKenna.
She said KIND is currently working with migrant children from ages two to 12 years old.
Among them is a 12-year-old boy who described some of the physical and sexual violence that led his family to flee their home.
"He was very stoic," Ms McKenna says. "But when the conversation turned to his mother, who he's been separated from, that's when he began to cry.
"[Children] have described to us how they've had very little notice to say goodbye," Ms McKenna told the BBC.
"In some cases the agents have said it's going to be a few minutes and then after a few days the child realises that the parent is not coming back."
Have we seen any reunions yet?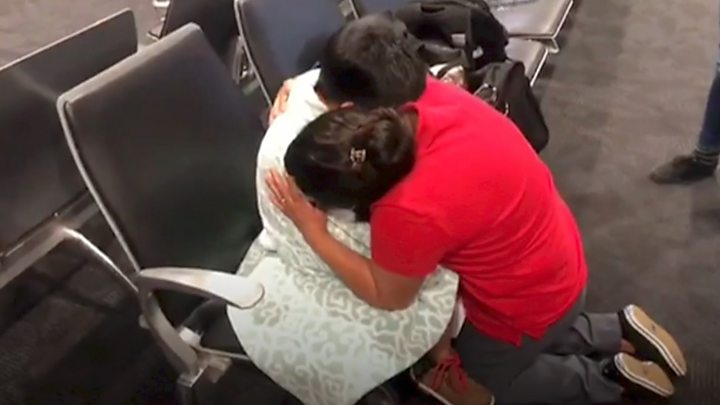 Guatemalan Beata Mejia-Mejia was reunited with her seven-year-old son Darwin on 21 June after weeks apart.
They crossed the US border in May and attempted to seek asylum after Ms Mejia said she had fled violence in Guatemala.
But on arrival, Ms Mejia was taken into custody and Darwin was sent to a detention centre in Arizona.
She plans to sue the US government, saying the separation violated her rights.
Honduran immigrant Cisary Banz Reynaud-Villeda was separated from his eight-year-old daughter at the border on 13 June and remains in custody in El Paso, Texas.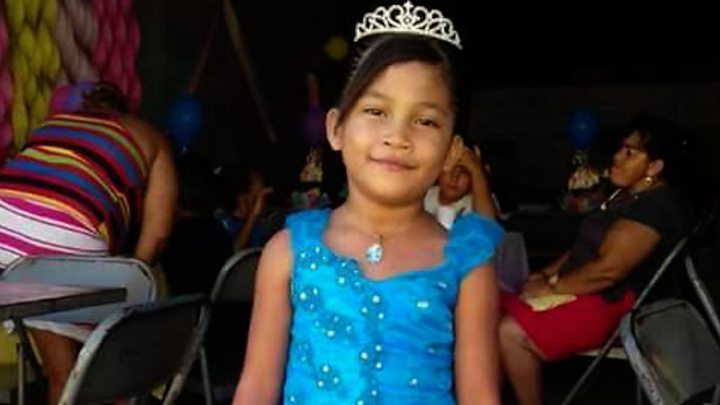 "I promised her we were not going to be separated," he told the BBC's Aleem Maqbool from his detainment centre.
He said he hopes his daughter will forgive him for what's happened.
"One feels powerless when this happens to them," Mr Reynaud-Villeda says.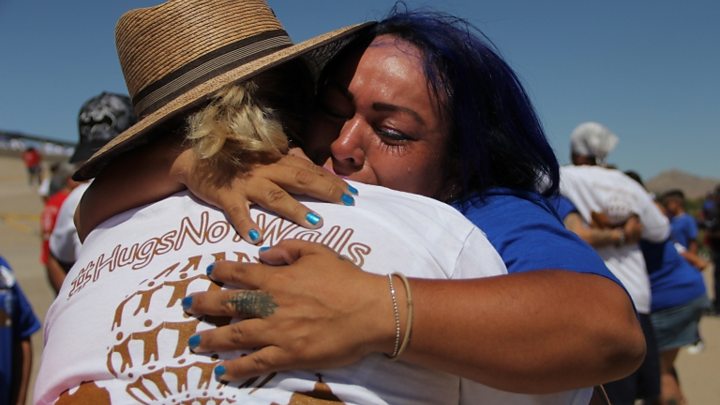 To further complicate the matter, attorneys are having difficulty taking action in some children's cases without any parent present, Ms McKenna said.
"For example, if a parent is going to or has been deported and the child is still in custody, does the parent want the child to proceed on their own or does the parent want the child returned?"
What about Trump's executive order?
Ms McKenna described the order as replacing "one abhorrent policy with another", adding to the trauma these parents and children must shoulder.
"It's hard to describe the level of uncertainty and fear on the ground," she says.
"We're not saying that all of the children and the families who come to the US are eligible to stay, but each and every one should be able to have a fair chance at accessing the US immigration system."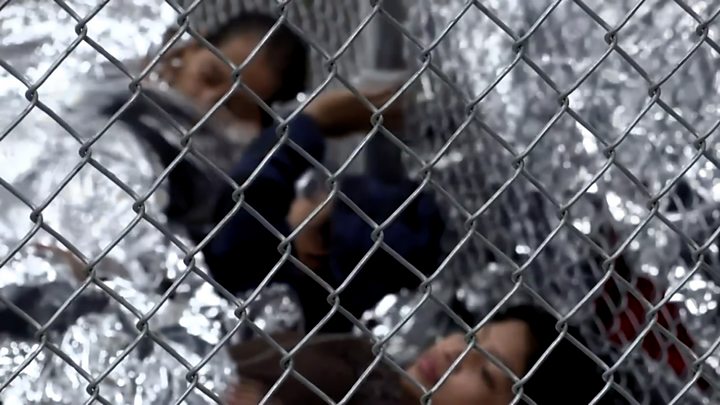 While the order does not seem to ease the plight of these families, Ms Goodwin hopes it will lead to a better process for tracking and reuniting children.
And for the parents at the Port Isabel centre, the order offered a "glimmer of hope".
"They were very excited to hear about [it]," Ms Goodwin says. "That was nice – to see them be positive that hopefully they'll get to see their children again."


[ad_2]

Source link