[ad_1]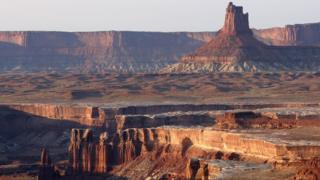 Majority of the US National Park Service advisory board have quit after they were ignored by the interior department secretary, members claim.
In a letter, members said they resigned in protest of Secretary Ryan Zinke's unwillingness to hold a single meeting since taking office in March.
A department spokeswoman called the claims "patently false".
The term for many of the resigning board members, who are unpaid volunteers, is set to expire in May.
Bears Ears: Inside the fight for Utah's contested national monuments
The advisory board, established in in 1935, is responsible for designating national historic or natural landmarks.
Its members, which included Republicans, were appointed under former President Barack Obama.
Departing board member and former Alaska governor Tony Knowles wrote in a letter to Mr Zinke that he and eight other members, "have stood by waiting for the chance to meet and continue the partnership . . . as prescribed by law", the Washington Post newspaper reported.
"We understand the complexity of transition but our requests to engage have been ignored and the matters on which we wanted to brief the new department team are clearly not part of its agenda," Mr Knowles reportedly wrote.
Carolyn Hessler Radelet, another board member and chief executive of Project Concern International, resigned separately on Wednesday, according to the Post.
Ms that "from all of the events of this past year I have a profound concern that the mission of stewardship, protection, and advancement of our National Parks has been set aside", according to a copy obtained by the Post.
Ms Radelet's term was not set to expire until 2021.
Interior Department spokeswoman Heather Swift told Reuters news agency in an email that the agency welcomed the resignations, adding it was "patently false to say the Department had not engaged the board, when as recently as January 8 we were working with the board to renew their charter, schedule a meeting, and fill vacancies".
She also claimed that the members turned "a blind eye to women being sexually harassed at National Parks" under the Obama administration.
Mr Knowles later told Alaska Public Radio: "The department showed no interest in learning about or continuing to use the forward-thinking agenda of science, the effect of climate change, protections of the ecosystems, education."
The move comes after Mr Zinke announced plans earlier this month to expand offshore drilling to most of the US outer continental shelf.
Anger as Trump shrinks Utah monuments
The Trump administration in December dramatically scaled back two public outdoor parks, or national monuments, in Utah.
The president declared an 85% cut to the state's 1.3m acre Bears Ears National Monument and a 50% cut to its 1.9m acre Grand Staircase-Escalante National Monument.
[ad_2]

Source link