[ad_1]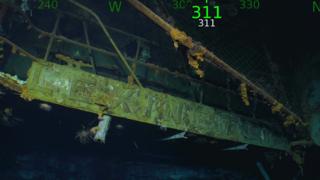 The wreck of a US aircraft carrier that was sunk during World War Two has been found off the coast of Australia.
The USS Lexington was located at a depth of about 3km (2 miles) in the Coral Sea, about 800km off Australia's east coast.
The ship was lost in the Battle of the Coral Sea from 4-8 May 1942. More than 200 crew members died in the fighting.
The US Navy confirmed the ship had been discovered by a search team led by Microsoft co-founder Paul Allen.
Pictures showed the wreck to be well preserved.
The discovery of the Lexington, along with 11 of its 35 aircraft, was made by Mr Allen's company Vulcan on Sunday.
Adm Harry Harris, head of the US Pacific Command, praised the discovery.
"As the son of a survivor of the USS Lexington, I offer my congratulations to Paul Allen and the expedition crew of Research Vessel (R/V) Petrel for locating the 'Lady Lex'," he said on Tuesday.
The Battle of the Coral Sea is considered a key moment in halting Japan's advance in the Pacific during the war.
The Lexington was scuttled by US forces after being struck by several Japanese torpedoes and bombs during the battle.
The US Navy said 216 crew members died after the ship was attacked. More than 2,000 others were rescued.
"Lexington was on our priority list because she was one of the capital ships that was lost during WWII," Vulcan spokesman Robert Kraft said.
Pictures from the seabed taken by the Petrel show the Lexington's nameplate and guns. Some of the ship's aircraft are also shown in remarkably good condition.
The ship will not be retrieved because the US Navy considers it to be a war grave.
Mr Kraft said it had taken about six months of planning to locate the ship.
Last year, Vulcan has discovered the wreck of the USS Indianapolis, which sank in July 1945.
It has found other vessels including a Japanese warship, the Musashi, and an Italian naval vessel, Artigliere – both from the same era.


[ad_2]

Source link