[ad_1]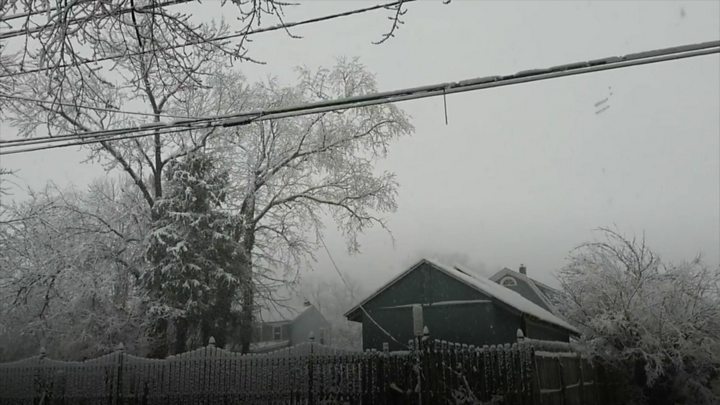 Thousands of people were left without power as a storm brought more than 2ft (60cm) of snow to the US east coast.
More than 800,000 customers were without electricity, including some who have been without power since last Friday's powerful winter storm.
Heavy snow and icy roads prompted officials to close schools and cancel or delay thousands of flights across the region.
It is the second storm to hit the US East Coast in less than a week.
More snow and wind gusts of up to 55 miles (88km/h) were expected to stretch across eastern New York through northern Maine on Thursday.
Up to 18 inches (45cm) of snow could fall on northern New England, according to the National Weather Service.
At least one death has been blamed on the storm. An 88-year-old woman died after she was struck by a falling tree in Suffern, New York, according to the Journal News newspaper.
Amtrak rail operator suspended service between New York City and Boston until 11:00 local time (16:00 GMT) on Thursday, according to the company.
Dozens of routes had also been cancelled and residents were advised to avoid travel unless necessary. More than 2,000 flights were cancelled as of Wednesday night, according to flight-tracking website FlightAware.
Boston Public Schools cancelled classes on Thursday and officials declared snow emergencies in several Massachusetts communities, according to the Boston Globe newspaper.
"With snow removal efforts underway, motorists are asked to stay off roads, stay home and stay safe", the Boston Police Department said on Twitter.
The governors of New Jersey and Pennsylvania declared states of emergency, allowing for release of government funds for recovery and redevelopment operations if necessary.
The dense snow, icy roads and powerful winds were not as treacherous as last Friday's storm that toppled trees, flooded coastal areas and left more than two million homes and businesses without power from Virginia to Maine. At least nine people were also killed in the storm.
Approximately 100,000 people were still without power after last week's storm, and efforts to install their power were stalled as the second storm swept through the region.
Most power outages were in New Jersey, Connecticut, Pennsylvania, Massachusetts and New York.
[ad_2]

Source link