[ad_1]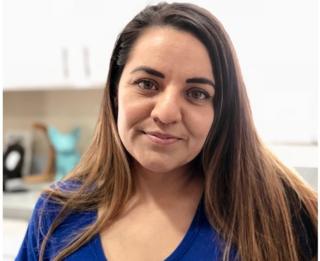 An Arizona woman has said she was left "in tears and humiliated" after a staff member at US pharmacy chain Walgreens refused to give her prescription medication to end her pregnancy – even though her doctor had said she would ultimately have a miscarriage.
Nicole Mone had discovered at a doctor's appointment on Tuesday that her baby was not developing normally.
Knowing her two-month pregnancy would not run to term, she was given a choice to end it through a surgical procedure or prescription medication, and chose the latter.
When she went to a Walgreens in the city of Peoria to get her prescription, she says a pharmacist refused to serve her on moral grounds – a stance which is within the company's rules.
She told the BBC the staff member was "very short, not compassionate at all".
Ms Mone, 35, shared a picture of a business card identifying the pharmacist on social media.
"I stood at the mercy of this pharmacist explaining my situation in front of my 7-year-old and five customers standing behind, only to be denied because of his ethical beliefs," she wrote on Facebook and Instagram.
"I get it, we all have our beliefs. But what he failed to understand is, this isn't the situation I had hoped for – this isn't something I wanted. This is something I have zero control over. He has no idea what it's like to want nothing more than to carry a child to full term and be unable to do so."
Ms Mone wrote that she had suffered a previous miscarriage.
She said her young son was left "trying to figure out what's going on, watching me get upset and trying to figure out why".
"I left Walgreens in tears, ashamed and feeling humiliated by a man who knows nothing of my struggles but feels it is his right to deny medication prescribed to me by my doctor," she wrote.
Ms Mone said she was sharing her story as she didn't want other women to endure similar experiences when they were "vulnerable and already suffering".
In a statement to the BBC, Walgreens said it was looking into the matter, and had "reached out to the patient and apologised for how the situation was handled".
It said company policy allows its pharmacists to "step away from filling a prescription for which they have a moral objection".
In that situation, staff are required to refer the prescription to another pharmacist or manager "to meet the patient's needs in a timely manner".
Ms Mone said that did not reflect her experience, however, as the pharmacist "could have just passed me on to the lady that was standing next to him" – which she says did not happen.
Instead, the prescription was transferred to another Walgreens store. Ms Mone picked it up there after seeking her doctor's help to ensure the second pharmacy would give it to her.
She said that Walgreens had not reached out to her to apologise, but that a store manager said she was sorry when Ms Mone telephoned to flag up the incident a day later.
In an update to her original Facebook post, which had drawn 33,000 reactions at time of writing, Ms Mone said she had contacted Walgreens corporate office, and filed a complaint with the state Board of Pharmacy.
"Thank you to those who have shown love and support," she added.
[ad_2]

Source link